Early Years
Kelly LeBrock was raised in the affluent Kensington neighborhood of London after being born in New York City.
Her mother, Maria, is British, and her father was French-Canadian.

LeBrock was given this name in honor of her maternal grandmother, Mary Helen Kelly, who was born in Keady, County Armagh, and wed John Traynor.
Kelly LeBrock was born in New York City and raised in London's affluent Kensington neighborhood.
Her mother, Maria, is British, while her father was French-Canadian.
LeBrock was given this name in honor of her maternal grandmother, Mary Helen Kelly, who was born in Keady, County Armagh, and wed John Traynor.
READ MORE: Gary Owen and Kenya Duke Divorce after 18 years.
Private life
I prioritize my family more. When the movies aren't, my family will be present. I don't want to become a lonely "hot" movie star if I don't start a family.
Kelly LeBrock was profiled in Orange Coast magazine in 1989.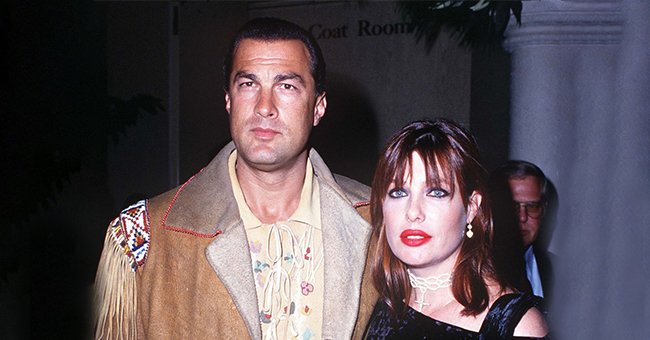 Victor Drai, a restaurant and film producer, was the subject of her first marriage, which ended in divorce in 1986. She met actor and martial artist Steven Seagal at this time. The couple wed in September of that year, and their daughter Annaliza was born in the spring of that year. Their daughter Arissa was born in 1993, while their son Dominic was born in June 1990. LeBrock filed for divorce the next year, citing "irreconcilable differences".
LeBrock wed retired investment banker Fred Steck in July 2007 and divorced him the following year.
LeBrock currently resides on a ranch in the Santa Ynez Valley of California.
READ MORE: Shania Twain Recalls Coping With Divorce and Health Scare: "My Husband Leaves Me for Another Woman"
Kelly Le Brock 'feels Sorry' for Ex Steven Seagal: He's a Hollywood Tragedy
Kelly LeBrock pities her controversial ex-husband Steven Seagal, dubbing him a Hollywood tragedy.
"I feel sorry for the man," the actress, 61, told Page Six in a recent interview of Seagal, who has been accused by many women of sexual misconduct spanning decades.
"I think that he's just a very sad person and he is what I would call a tragedy of Hollywood," she said, adding, "I believe he was very bullied as a child, very sickly, very weak and I guess people who are treated that way as children end up becoming lost as they age.
"I wish him all the best."
They have three kids together, son Dominic, daughters Annaliza and Arissa, and they were married from 1987 to 1996.
Martial arts trainer-turned-action star Seagal, 69, has been embroiled in controversy for years. Two women accused the actor of sexual assault in 2018, but no charges were filed against him since the statute of limitations had passed in both cases (one allegedly took place in 1993 and the other in 2002).
Eleven additional women, including actors Portia de Rossi, Jenny McCarthy, and Julianna Margulies, have also accused the actor of inappropriate behavior.
He is a fervent fan of Vladimir Putin and also holds citizenship in Serbia and Russia. He was designated by Russia as a special envoy for relations with the United States in the humanitarian field in 2018.
LeBrock left Hollywood behind after divorcing Seagal and moved to a ranch in the Santa Ynez Valley in California.
She said to us, "You know, I just was never impressed with being famous or fabulous." "I woke up every day and went to work; I didn't give a damn about looking well or anything of the sort. Never have I been proud of myself. I believe I'm quite typical.
LeBrock began her career as a model, and at the age of 19, she scored a 24-page spread in Vogue magazine, a contract with Christian Dior, and the notorious Pantene advertisement in which she crooned, "Don't hate me because I'm beautiful." LeBrock's big break occurred at this point.
She adds of the 1980s commercial that went viral in pop culture, "I didn't detest it. "I just found that to be absurd. You're here now, why don't you just say it? the woman asked as I walked down the hallway after saying, "I can't say that," when I went up for the reading. I joked about it when I said it.
She later starred alongside Gene Wilder in "The Woman in Red" and the John Hughes teen comedy "Weird Science." LeBrock, who had a very long break from acting, is back in the comedy "Tomorrow's Today," playing a gangster's ex-wife, but she's not sure if she'll be staying in Hollywood.
She answered, "Who knows, to be quite honest, I just want to get married and stay at home." "I have fantastic, beautiful grandchildren who just happened to be here. My schedule is pretty busy.
"I have fallen in love for the first time in a very long time after meeting a lovely man that I genuinely admire. And to top it off, he is bright. It's great to have someone intelligent to talk to, and he's one of the top neurologists in the nation.
For Any Updates Keep Visiting Our Website ecthehub.com