Drew Griffin was an investigative correspondent for CNN for almost 20 years. He died last weekend after a long battle with cancer, the channel said.
Griffin was known for taking on stories about corruption, fraud, and wrongdoing. He was especially good at hard-to-solve cases that had a big impact, and he was known for tough interviews that didn't hold back.
After Hurricane Katrina, his stories about people dying in nursing homes and some police officers stealing from them led to investigations. Because of what he wrote about long wait times for care at Veterans Affairs hospitals, VA Secretary Eric Shinseki resigned and Congress passed new laws to fix things. Griffin has been looking into election denial since Jan. 6, 2021. He did an interview with MyPillow founder Mike Lindell where he was challenged.
Who was Drew Griffin?
Drew Griffin was a correspondent for CNN's investigative unit in Atlanta, Georgia.
After joining the network in May 2004, he worked for CNN for nearly 20 years.
Griffin got his bachelor's degree in communications from the University of Illinois at Urbana-Champaign and worked as an investigative reporter for CBS 2 News in Los Angeles for ten years before joining CNN.
His bio says, "Griffin's work as an investigative reporter has taken him all over the world, allowing him to cover a famine in Somalia, illegal drift net fishermen in Singapore, and Los Angeles gang members in El Salvador."
"He has talked with both the American and Russian presidents. Griffin reported for CBS 2 News from New York City after the terrorist attacks on September 11 and from Israel to cover the war on terrorism."
The journalist who won an award knew a lot about politics, sports, business, and government investigations. During his career, he won some of the most prestigious awards in journalism, such as Emmys, Peabodys, and Murrows.
What caused Griffin's death?
The 60-year-old died on December 17, 2022, after a long battle with cancer, his family told the network.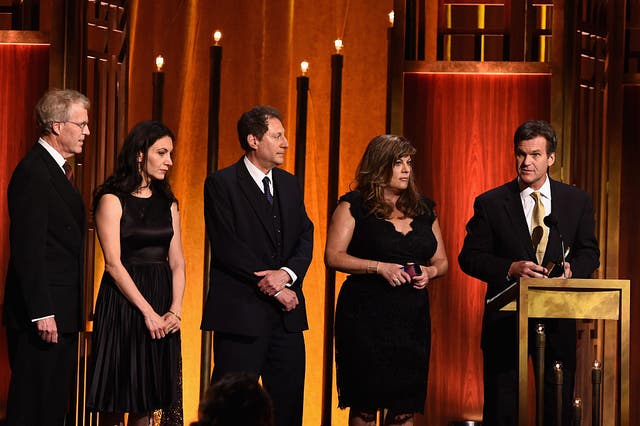 Griffin is remembered by his wife, Margot, as well as his three children, Ele Gast, Louis Griffin, and Miles Griffin, and two grandchildren.
What do people have to say about Griffin's death?
Michael Bass, CNN's Executive Vice President of Programming, wrote in a note sent to CNN's investigation team on Sunday:
"He was brave and creative at the same time. He knew how to take a story as far as it could go, but also how to tell it so that everyone could understand it.
"How many times has he followed someone who didn't want to be interviewed? How many times has he told those in power the truth? How many times has he changed something important…
"It was an honor to work with him and see how the world changed because of what he did."