The characters in The White Lotus are like none other. During the show's seven-week run, they traded theories about the mysterious killer, flooded Twitter with many memes, and criticized the costume department's decisions. 
The HBO drama's second season finale aired on Sunday night, but The White Lotus hive isn't done picking the show apart. Now, it looks like they're using their snooping skills for something else. Yes, people, they've officially reached the stage of fandom where they want to know about the cast's personal lives.
It all started when Leo Woodall, who plays Jack, posted some behind-the-scenes photos of The White Lotus cast on Instagram.
At first glance, the pictures don't seem dangerous, but cult fans of the show took a closer look and found their next big theory. Now, some fans think that Woodall is dating his co-star Meghan Fahy, who plays Daphne on the show.
The actors didn't have any scenes together in The White Lotus, but if the rumors are true, they may have gotten close on set. We know it sounds silly to guess, especially when the only evidence is a bunch of Instagram photos, but what if those nosy detectives are right?
MUST BE READ: In 2022, Are Karen and Miles From "Married at The First Sight" Couples Still Together?
Who's Meghann Fahy dating?
It's not clear if Meghann is dating anyone right now, but her last known relationship was with actor Billy Magnussen, who you might know from movies like Ingrid Goes West, Game Night, the Aladdin remake, and No Time to Die, as well as TV shows like Made for Love and Get Shorty.
The two met on the set of their 2011 Hallmark movie The Lost Valentine, according to DuJour. However, many news sources say that the two didn't start dating until 2017.
The last picture Billy has of Meghann on his Instagram seems to be from May 2020, and the two no longer follow each other on social media. This suggests that they may have broken up in the last couple of years. Us Weekly says that their last red-carpet appearance together was in January 2020. Meghann, on the other hand, doesn't have a lot of pictures on Instagram, and none of them include Billy.
If you watched Meghann's previous hit show The Bold Type, you may have also seen Billy in a 2018 episode.
MUST BE READ: Is 'Friends' Series Actress Jennifer Aniston Married To American Actor Jon Hamm?
What about Meghann Fahy's on-screen relationship in "The White Lotus"?
Meghann plays Daphne Sullivan in The White Lotus. She is married to Cameron Sullivan (Theo James). From the outside, it looks like Daphne and Cameron, who are always talking about how much they love each other, are very close. Everyone around them thinks they are madly in love, but it turns out that things aren't always rainbows and butterflies for the couple.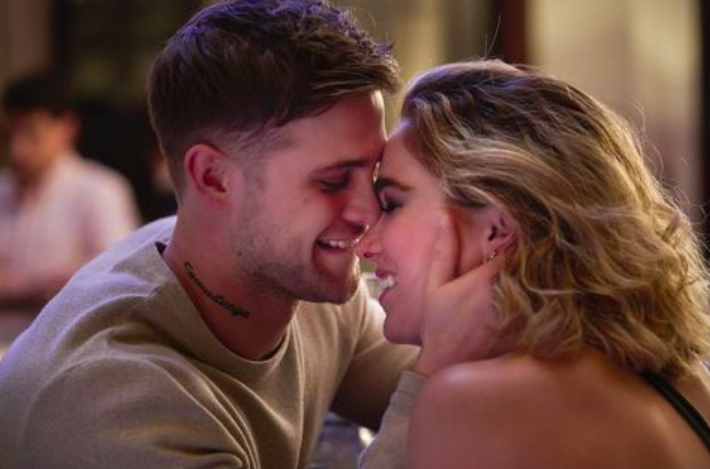 If you've been watching Season 2 of The White Lotus, you may have already noticed that Daphne and Cameron are having more and more problems. Fans will have to see what happens next.
How did Meghann Fahy get popular?
Through the comedy-drama "The Bold Type," Meghann Fahy became well-known all over the world. This drama has been one of the most important results of the HBO smash.
Is Meghann Fahy dating Leo Woodall?
There are rumors that "The White Lotus" actor Leo Woodall and Fahy are dating right now. They both post a lot on Instagram, and followers have seen some flirty comments from both of them, which makes it seem like they are more than just friends.
FAQs:
What kind of person does Leo Woodall play in "The White Lotus"?
Leo Woodall plays British Tom Hollander on the popular show.
Meghann Fahy and Leo Woodall haven't said anything about their relationship yet.
No, neither of them has said that they are seeing each other. But after the shoot, they both took a trip.