Kaley Cuoco and Tom Pelphrey looked great at the opening of Tom's new show Love & Death on April 26. This was their first red carpet-appearance since having their first child, a baby girl named Matilda, in January. (In January, they walked the red carpet at the Critics' Choice Awards.)
Tom looked great in Brioni for the event on April 26. Meanwhile, Kaley wore a blue dress that stood out and a collar that said "Matilda."
Kaley held her daughter close to her heart on the red carpet, and she also showed fans a new photo of the baby on her Instagram Story that same day. As you can see in the photo, Kaley and Tom stood by the pool while holding the baby in their red carpet outfits.
The star of "The Big Bang Theory" added the words "Date Night" to the cute picture. Their glitzy night out as parents come almost a month after they had their first child on March 30.
Read More:
Two days after she was born, the star of "The Flight Attendant" wrote on Instagram, "Meet Matilda Carmine Richie Pelphrey, the new light of our lives! We are so happy and thankful for this small gift."
Tom gave E! News an exclusive look at how being parents has been going for them earlier this month.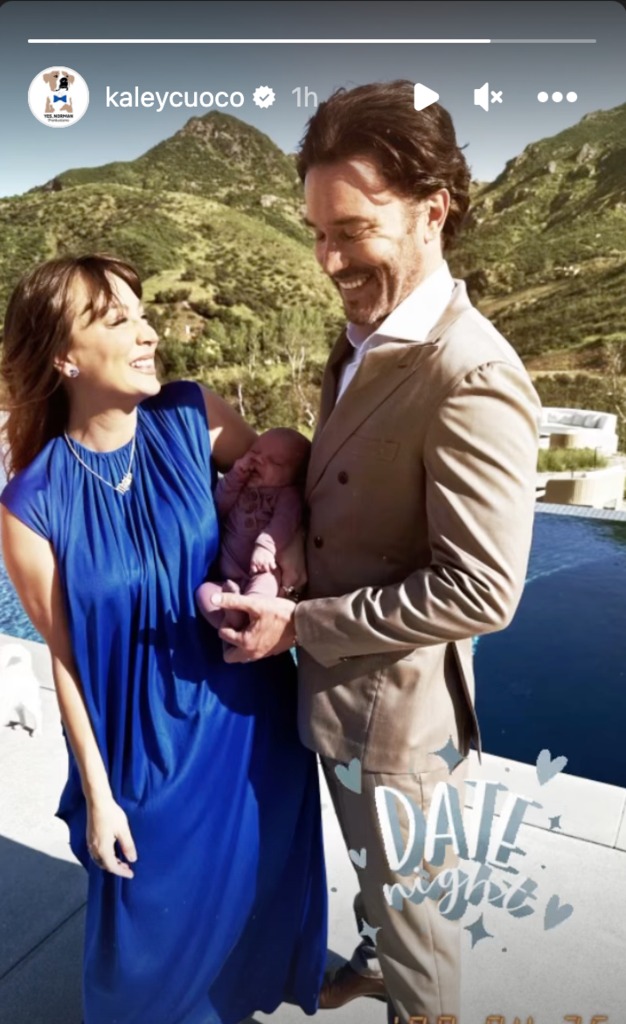 "It's so pretty. I was looking forward to it, and you seem to have some idea of what it could be and how cool it could be. "Nothing beats the real experience," he said.
"Even if she's fussy or you haven't slept as much when you're holding Matilda and she makes those little noises and coos, your heart just melts."